DPT is a contract development and manufacturing organization (CDMO) with a specialized focus on semi-solid and liquid dosage forms. We offer pharmaceutical companies the broadest range of capabilities in the industry. From non-sterile to sterile, from virtual to large pharma, from concept to commercialization – no matter what type of support you need, count on us to get your project to completion.
With a specialized focus on semi-solids and liquids since 1938, we have an unmatched level of expertise. We continue to invest and expand our infrastructure and capabilities at our five world-class cGMP facilities, including centers specializing in semi-solid and liquid manufacturing, aseptic manufacturing and research and development.
With more than 1,200 employees and an outstanding regulatory history, you can count on us to fulfill your development and manufacturing needs.
We improve health and quality of life by providing our healthcare partners the best solutions to their development and manufacturing needs.
Learn more about us: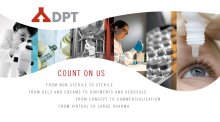 Our Services
With unmatched technical expertise among CDMOs and fully integrated contract pharmaceutical development and manufacturing services, we can help you successfully develop and commercialize your next product.
Centers of Excellence
Our Centers of Excellence in San Antonio, Texas, and Lakewood, New Jersey, provide clients specialized services and access to the industry's top scientists and state-of-the-art research facilities.